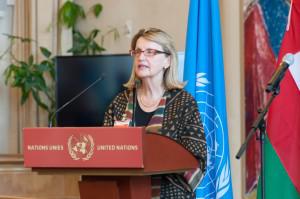 World Poetry Day 2015, United Nations, Geneva
   Jo Ann was born on Epiphany or Twelfth Night, 1945, in Palmerston North, a fifth generation New Zealander of Irish/Danish origins. Just after her eleventh birthday, her family immigrated to the USA, and eight years later she settled in Switzerland with her Swiss husband. They have two children and four grandchildren.
   While teaching English as a foreign language, Jo Ann published two textbooks, one for the Swiss Railways and one for pilots preparing their international aeronautical radiotelephony license.  For five years she was on the editorial committee of the Swiss journal Ecrire and in 1993 she became a founding member of the Geneva Writers' Group and part of its steering committee for fifteen years.
   In 2008, Jo Ann published Blowing Feathers, a memoir in her mother's voice. A year later, she was the editor of Offshoots 10, the Geneva Writers' Group's anthology, which celebrated it's 20th year of publication with that issue.
   Her poetry collection Transition was published in Switzerland by Editions du Madrier in December 2011. In March 2015, she was invited to read two poems at the United Nations in Geneva in celebration of World Poetry Day 2015. In April 2022 her second poetry collection, "Dancing Light Sings", was launched in Lausanne at BooksBooksBooks. 
  She is a member of three writing associations: PEN centre Suisse romand, Leman Poetry Workshop,  Geneva Writers' Group.